Rules
What are Rules?
Rules allow you take full control over your feedback. You can now fully automate manual processes like deleting data, and tagging feedback automatically. Let's take a look!
The rules you create can be applied to your current feedback inside NomNom & all incoming feedback, meaning that you can spend more time pulling the insights from your data, and less time organizing.
Rules allow you to do the following Actions:
Assign an auto-tag to documents and highlights
Set sentiment in documents
Add properties to documents and highlights
Delete documents
Rules can be applied when your documents meet any conditions predefined by you, All search capabilities are supported by rules.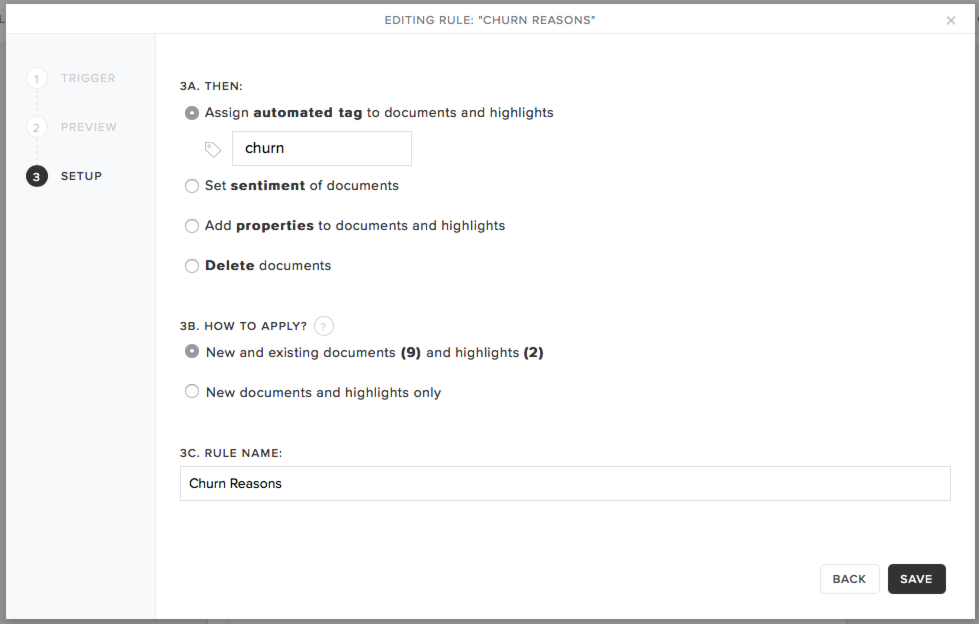 Different ways in which rules can be applied

After choosing an action you can select which documents or  highlights will be affected by the rule:
"new and existing documents and highlights" - once a rule is created it will be applied to documents and highlights which already exist in your NomNom account and any new document or highlight added in the future
"new documents and highlights only" - a rule will be applied only to documents or highlights created after the rule was created
EXAMPLES

Example 1 Condition = Feedback with keywords "automatic-reply". Action = Delete.
Example 2 Condition = Feedback from Source Intercom and keyword Dashboard Action = Assign Tag Dashboard Feedback

How to create a Rule.
Where to create Rules. You can create rules from the Search or from the Rules area in your Account Settings.
Edit a rule. Once you've created a rule, you can find, edit or delete them from the Rules area in your Account Settings.
Create a Rule from Search
You can create a rule based on search results. For example: after specifying your search filters, click the buttonCREATE RULE to be taken to the rule editor.
Create and manage Rules from your Account Settings
You can see all of the Rules you have created and edit them from your Account Settings.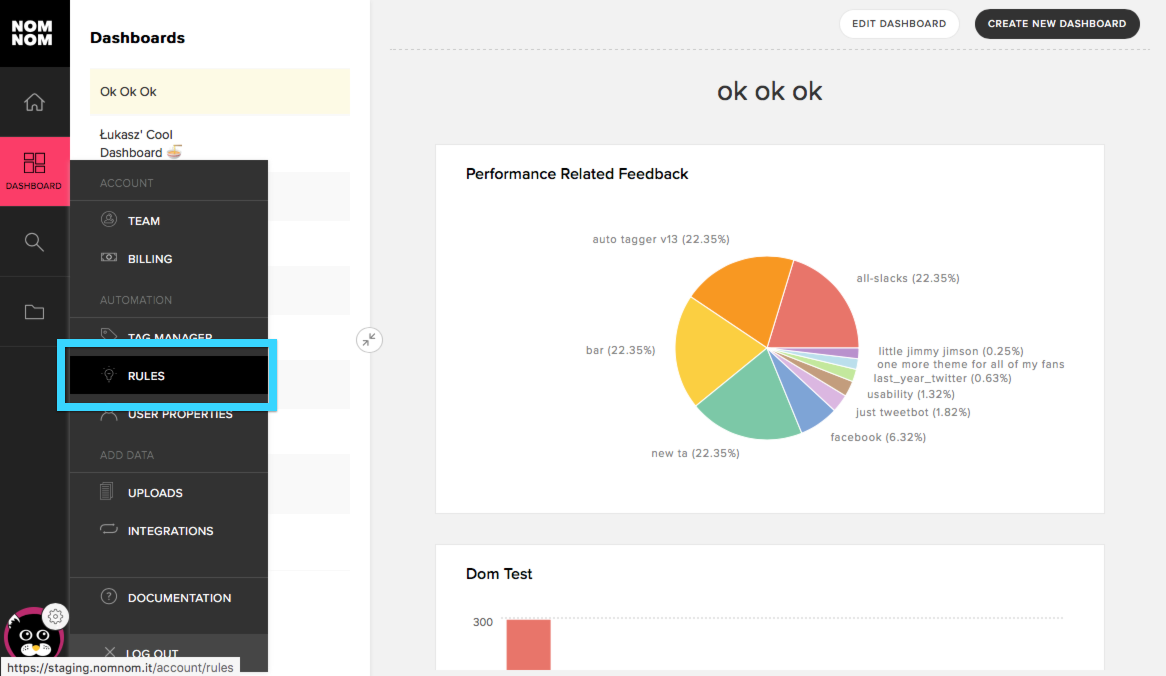 Rules and integrations - reacting to updates
Let's say that you want to import only Zendesk tickets or Intercom conversations with specific tags (product-feedback and product-issue).

You can create a rule with the following conditions: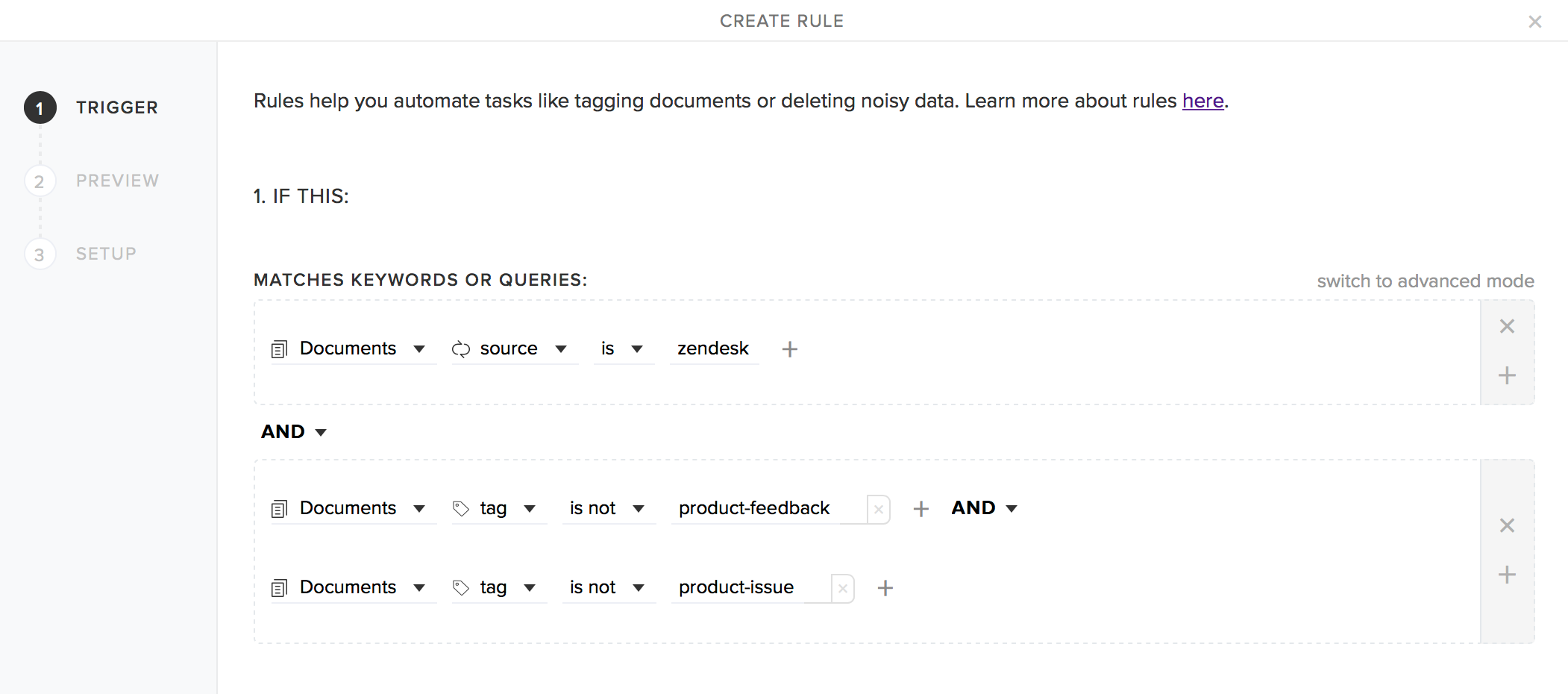 And "delete" action: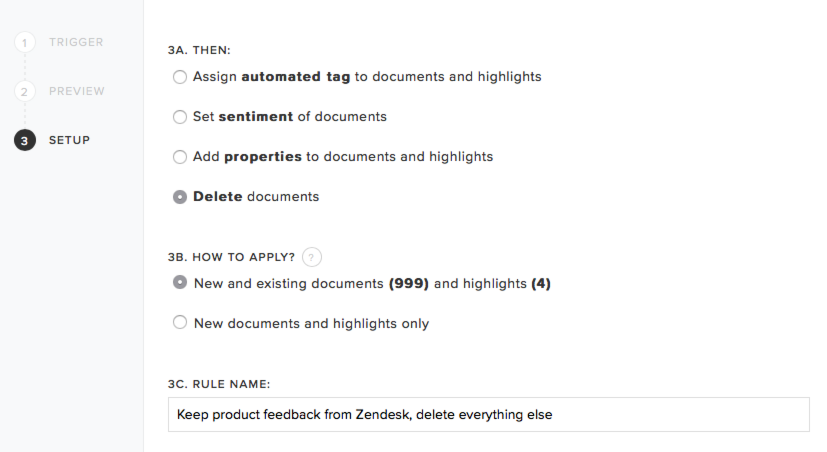 You can decide to keep existing data and apply this rule only to new documents.
From now whenever a new ticket from Zendesk comes in and it it's not tagged with product-feedback or product-issue it will be deleted. However, as soon as either of the tags is added in Zendesk (by a support agent or a macro) our system will pick up that change and make that document searchable again.
As you have full query language and filters support you can create rules which will quickly remove unwanted feedback and make sure it's there when it changes in your sources.
Rules query examples
Here're a couple of example queries you can use to create your own rules. Simply copy and paste the query into your rule editor and modify it as you like.
Examples
If you have any question on how to clean your data or automate tagging please get in touch via our live chat or via email at support@nomnom.it
Happy automating!
---
---